IT Asset lifecycle Management for Schools
Managing Chromebooks and other 1:1 (one-to-one) devices in K-12 schools and districts can be a challenge, particularly if you are managing hundreds, thousands, or tens of thousands of devices with a small team. It's not surprising that considering and planning out the complete lifecycle of those devices, such as what will happen to them in three or five years' time at their end of life is often overlooked. However, taking the time to map out and plan your 1:1 (one to one) device lifecycle is a significant first step in optimizing your asset processes and in turn increasing the value schools get from those assets.
During the pandemic many schools and districts were forced into take home 1:1, in many cases literally overnight. Priority was getting those Chromebooks or other devices in student's hands to facilitate remote learning as quickly as possible. There simply wasn't opportunity to define a robust process for even device allocation and checkout.
Schools and districts continue to face challenges which stem from a lack of device lifecycle process. I recently spoke to a relatively small school district that identified the loss of Chromebooks costing that district approximately $20,000 last year. Again, this was not a large school district. The issue stemmed from a lack of process and simplicity of that process around checking out Chromebooks and allocating them to students. Librarians were forced to use a library system that wasn't designed to manage 1:1 device programs. The checkout process was so cumbersome that the librarian would get distracted while checking out a device resulting in an incomplete or inaccurate audit trail of who had what device.
The good news is that there are a series of processes that have already been defined, unfortunately they're not widely known or implemented in the education space. ITIL is a series of best practices for IT service management and IT asset management and its use is common place in large device deployments outside education. As a school or district, it's not super important to understand all the minutiae of ITIL but if you follow these standards, you're adhering to the best practices related to the effective and efficient management of your devices, including Chromebooks. ITIL is large and complex so in some ways not suited to small IT teams found at most schools and districts. However, cherry picking best practices and processes from ITIL that are relevant to schools and districts such as hardware asset lifecycle management can be very beneficial.
A great starting point to optimizing your investment in your IT assets, such as Chromebooks, is to map out the complete lifecycle of those devices. We suggest that schools and districts gather the technology committee and all stakeholders in the 1:1 (one to one) initiative to identify each stage of their Chromebook lifecycle. Consider each stage of the device from cradle to grave, what processes are required, and who will be responsible for those process tasks. To help with this exercise, we have created a free 1:1 device process documentation template which you can download.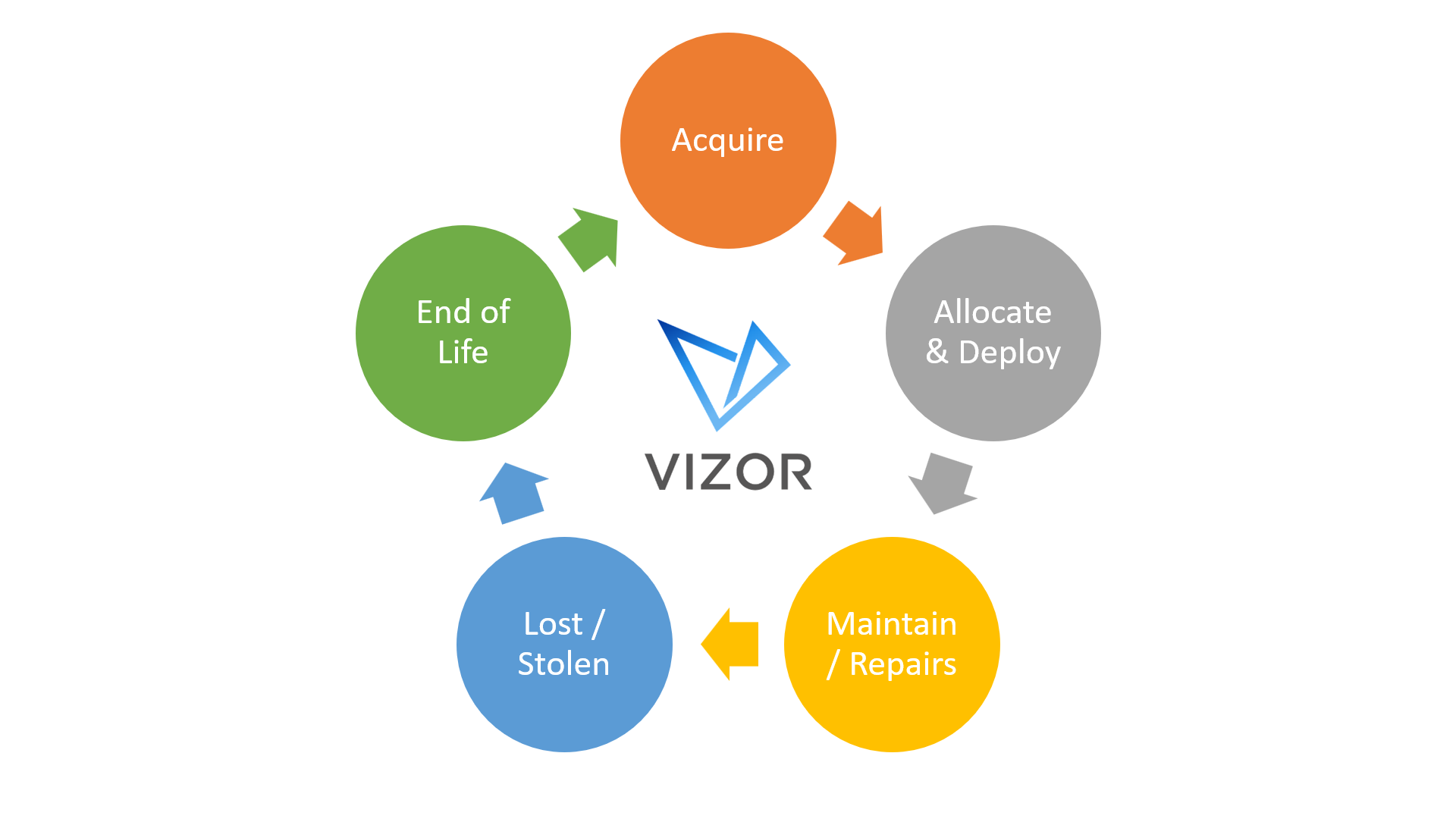 Once a school or district has decided to go 1:1 (one to one) either in the classroom or take home 1:1 and selected a technology such as Chromebooks to achieve required learning outcomes, the lifecycle starts. If you Google IT asset lifecycle or ITIL hardware lifecycle, you'll find plenty of examples of a typical IT asset lifecycle. There are some variations in the terms used of each stage, but they all follow a similar path. The asset lifecycle starts with purchase or procurement, then allocation and deployment, maintenance and repairs and finally end of life.
The first lifecycle stage of a 1:1 device to consider is purchasing. Will the Chromebooks be purchased outright? Maybe leased from a service provider? Are they going to be family funded? Will federal funding such as IDEA or Title be used? If you're going to use government funding sources, then you need a process in place to ensure that that Chromebook is used for the specific criteria of that funding grant. Ask yourselves these questions and determine what processes and tasks are required based on your school or district.
Allocation and deployment are other big stages in the life cycle of a Chromebook. How is the district going to allocate Chromebooks to individual schools, and how will the schools allocate the Chromebooks to grade levels and to individual students? Who will be responsible, teachers, librarians, technology coordinators, media specialists? What training and PD is required? Again, ask yourselves these questions and determine tasks and responsibilities.
As devices are used inevitable maintenance tasks are required such as repairs. It is important to have clear repair policies and procedures in place and to make sure these are communicated clearly to students and families, so they understand their personal responsibility for devices issued to them.
Eventually we come to the devices end of life. The first thing to consider is how are you going to identify devices which are end of life. Some schools we work with have a flat 5-year policy, so once the Chromebook is five years after its purchase date it's considered end of life. Other schools base end-of-life on the AUE date (Auto Update Expiry) when the device will no longer receive security updates. Once you've identified those Chromebooks which are approaching end of life, you need a process to replace them. You also need processes for disposing of physical assets which you no longer need and tasks for deprovisioning Chromebook licenses from the Google Admin console.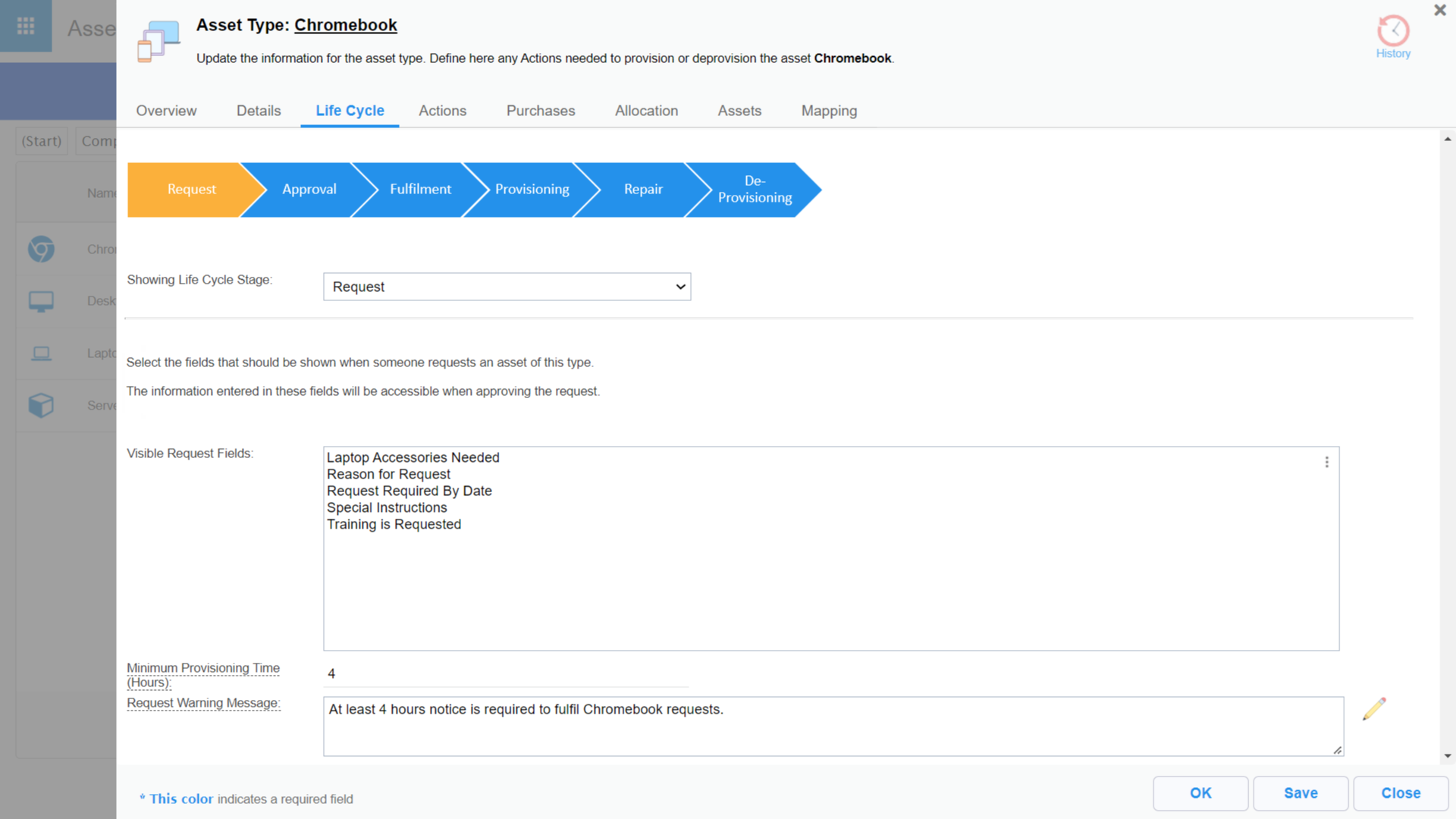 Asset Management software such as VIZOR can help reduce the workload of managing Chromebooks and other 1:1 devices by automating these lifecycle processes. VIZOR has best practice workflows out of the box for each stage of a Chromebooks asset lifecycle. These workflows and automations have been designed specifically for schools and districts over the last decade. As an example, self-service forms allow families to easily report a device allocated to them as lost or stolen without using any human resource at the school. VIZOR sends an e-mail confirming that the device is lost and if necessary issues a fee or charge for a replacement device. VIZOR will even remotely disable lost or stolen Chromebooks so they can't be used or resold.
In conclusion, managing Chromebooks and other 1:1 (one-to-one) devices can be challenging but taking the time to plan out the complete lifecycle of those devices will optimize your processes and reduce your workload. Furthermore, selecting an asset management tool, such as VIZOR, which automates processes and tasks throughout the asset lifecycle can be a next level timesaver.