The Secret to Chromebook Management for Schools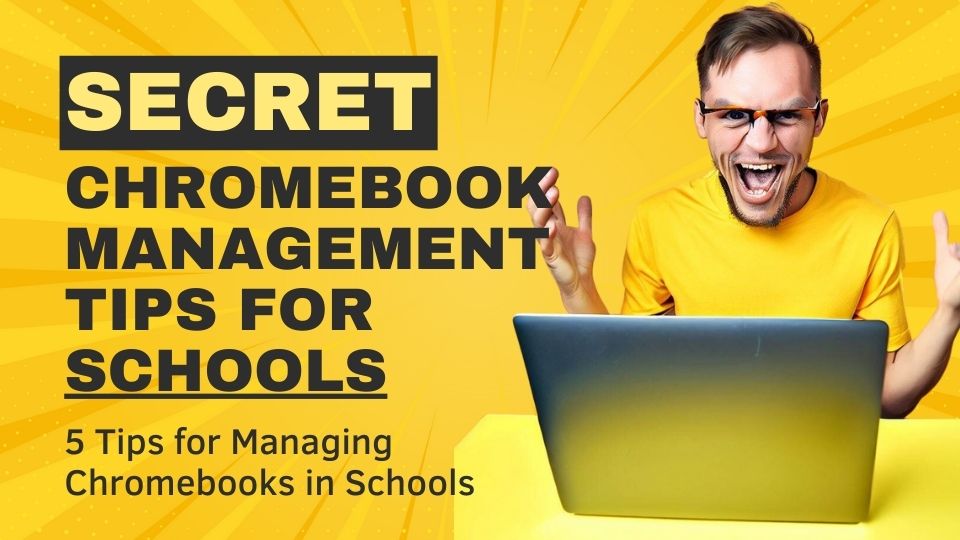 Chromebooks are massively popular in the schools. Districts buy thousands of Chromebooks at a time for their students. Google makes it an easy choice with Chromebooks' durability, long battery life, and low costs. Although schools prepare for large investments, we are noticing that they are forgetting one important component of their acquisition – management.
Chromebook Management is often overlooked from an IT perspective. Schools are focusing on management within a classroom, which is also important, but not enough. How do you manage lending laptops to students? How do you manage repairs and replacements? This takes place outside the classroom. They are also vital to the longevity of their lifetime value.
As a result, we are sharing the secret to proper Chromebook management and keeping a high return on your investment. The secret is a Chromebook manager that goes beyond Google Admin console functionality, like VIZOR for Chromebooks.
Keep reading to see exactly why a chrome device manager tool is necessary when purchasing Chromebooks in bulk.
Reasons to invest in a Chromebook Management Software:
Easily Distribute Devices and Accessories

Monitor Distribution and Location

Notification

Easy Exchanges

Repair Management
1.Easily Distribute Devices & Accessories
Upon purchasing thousands of Chromebooks, it's not always evident that school districts must plan how they will distribute the devices. Districts must consider how to manage them per school, per grade, per teacher and sometimes per program. In many cases, the librarians hand out the devices along with other school books. However, some elementary schools prefer that homeroom teachers hand out the Chromebooks in class.
VIZOR for Chromebooks, for example, fully integrates with G-Suite. With just one click, obtain your Chromebook information in the system to then easily distribute. Use any barcoding or type in the code manually if barcode readers are not available. The user-friendly interface makes it easy for anyone to use the self-service option to check out a device. Therefore, anyone can hand out the devices.
Alternatively, the IT department can allocate carts of Chromebooks to teachers. Teachers can then distribute accordingly. With a barcode, the distributors need to scan the students' ID (whether on a list or identification cards).
How a Chromebook Management Software takes it one step further
Similar to a library system, you can track which student has which Chromebook and who is their homeroom teacher. However, library systems do not track any associated accessories they may hand out, like a USB, mouse or Chromebook cover. A library system also makes it difficult for teachers to hand out Chromebooks during class.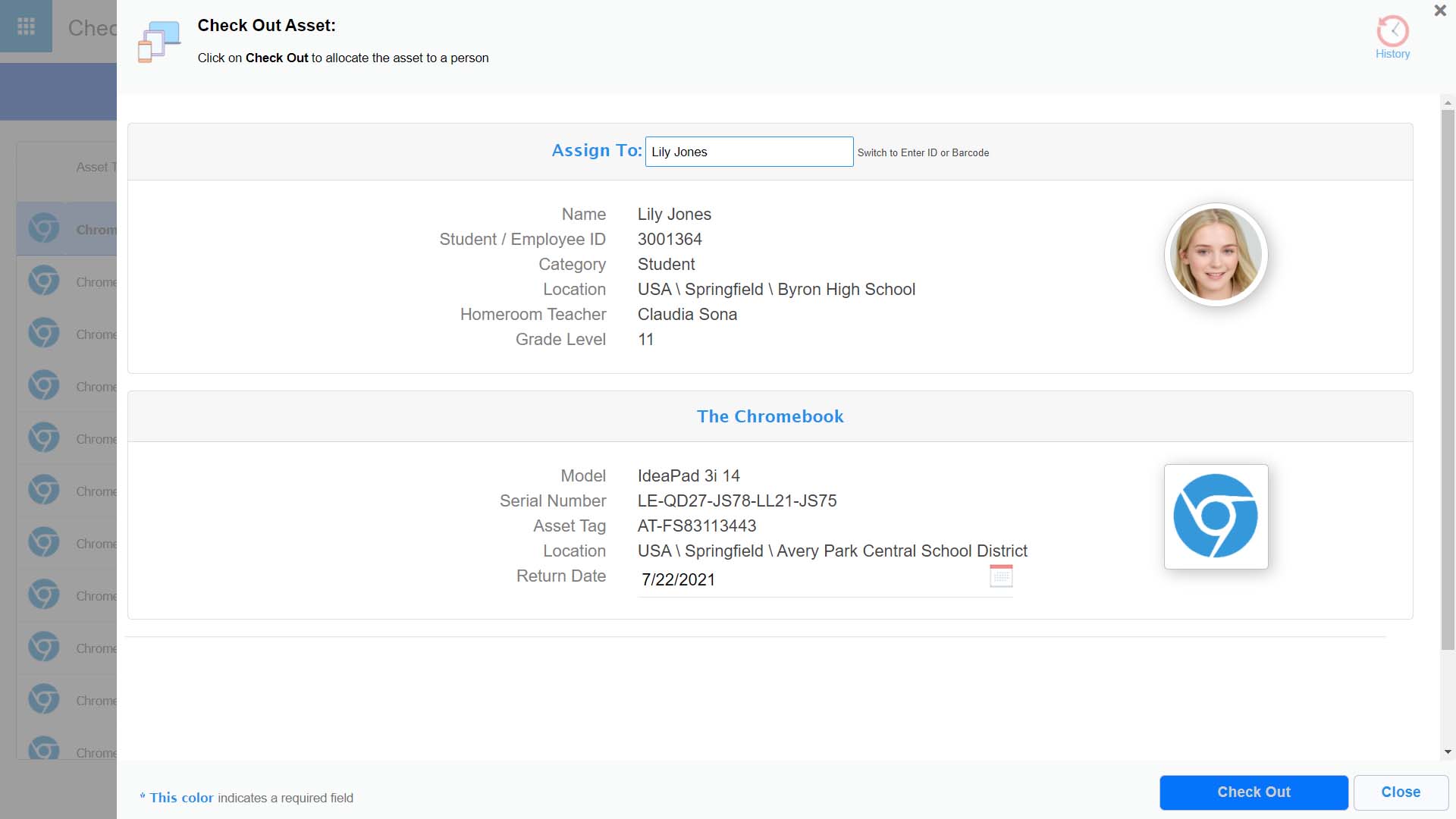 Without the Chromebook manager, the teacher has to bring their class to the library and check out the Chromebooks. Although that process is quite a fun adventure for the students, it can be a hassle for teachers. In addition, checking out the Chromebooks at the library is time-consuming. Students may wait a few days before getting their devices.
With the software, IT departments can assign a cart of Chromebooks to the homeroom teacher where she/he will distribute the Chromebooks to the students in a class (either with a barcode or manually). Alternatively, the librarian can continue to distribute the Chromebooks but they will also be able to track associated accessories.
2. Monitor Circulation & Location
As Chromebooks get more popular, schools are testing how they should use them in classrooms. As a result, only some grades or classes have access to the devices. In these cases, the Chromebooks are usually used by different students. Fortunately, VIZOR for Chromebooks makes it easy to track who has which Chromebook. The tool identifies if a device is being checked in or out. When checking in a Chromebook, the solution adds the device to the inventory. When checking out a Chromebook, the solution identifies who is borrowing it. There is also the option to set the date when they need to return the Chromebook (i.e. perhaps only lent over a weekend).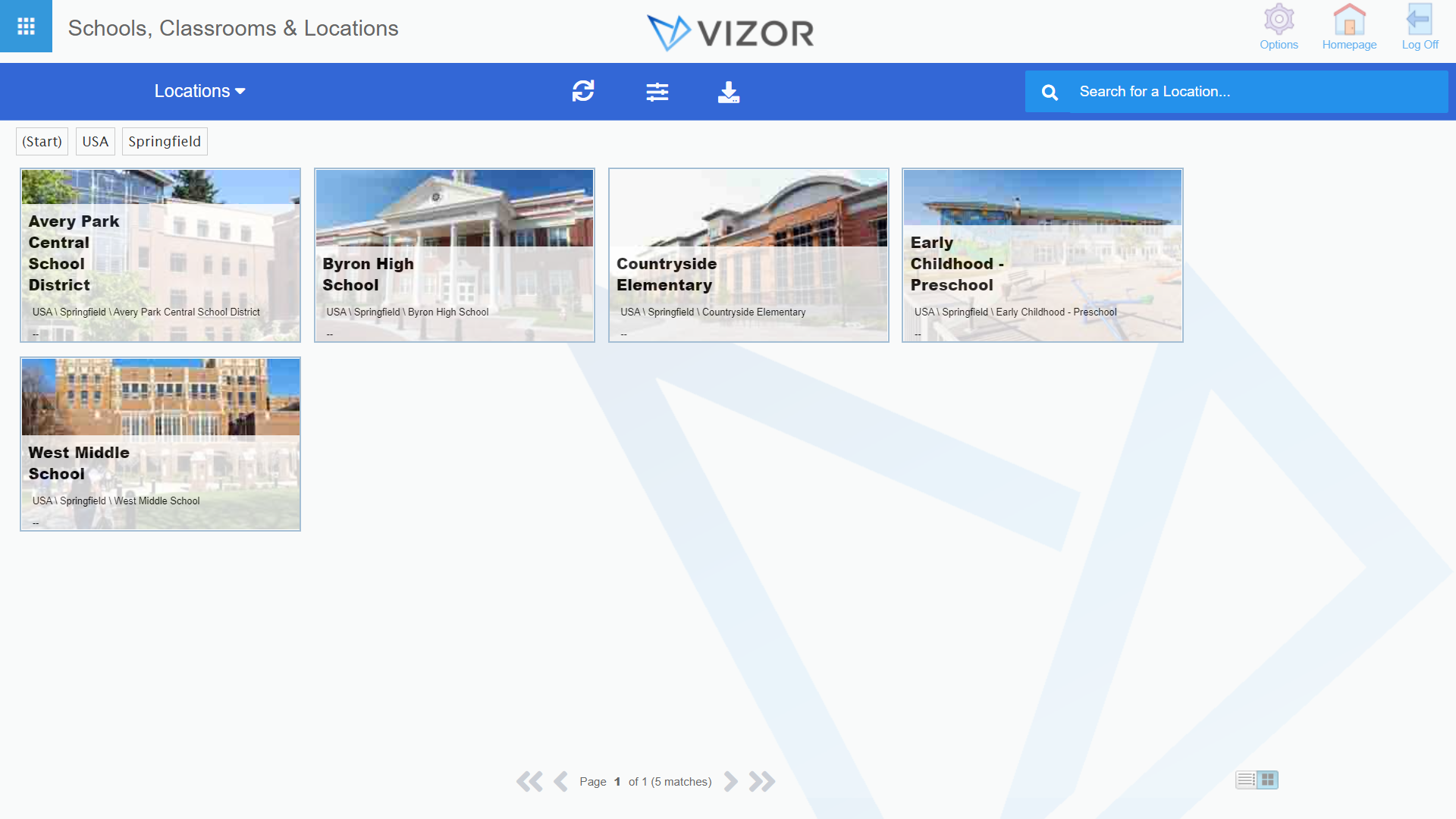 In addition, some schools keep Chromebooks in specific classrooms. One batch can be placed in an elementary school on the east end of the city and the other batch can be in the elementary school near the water. The Chromebook manager can identify which school, building, classroom, and even shelf (for inventory purposes). Therefore, if a device gets misplaced, IT can easily identify where it is supposed to be located.
3. Notifications
As schools are just starting to distribute Chromebooks, the hassle of chasing students for them to return the devices isn't in full motion. But how do you remind them? The Chromebook management software already knows which student is using which devices can help. For example, VIZOR for Chromebooks has the option to send notifications one week and the day before the devices are due. It's also possible to set up reminders after the due date (in case they weren't returned).
We know there are children involved so we made sure to make it possible to remind teachers and parents as well.  There are also email notifications for repairs, and warning students and parents of any fines. 
4. One-Click Exchanges & Repair Management
Inevitably, the devices are distributed to students, who may damage them. As a result, they may need to exchange the devices for one that works. The IT department can fulfill the exchange with one click in VIZOR for Chromebooks. The following is what happens in that one click:
The information in the student profile updates to the new device,
It tracks all the devices he or she may have had previously
Your inventory updates with the Chromebook that is checked out and the Chromebook that is in for repair
Automatically sends a repair ticket for the specific Chromebook that is damaged
The student's profile updates to the cost for damages (and send out a bill, and reminders to the student, parents and homeroom teacher, according to your policies). In one click, exchanging a device has never taken care of so many actions!
Finally, the software tracks the costs associated with the devices which can be separated by student, class, teacher, or school for extensive reporting.
5. Monitors Repairs
Chromebooks will pass through the IT department for any repairs or updates. The department can easily exchange a Chromebook with another one with the Chrome device manager. Not only are the repairs tracked in the tool but which parts were replaced on the device. After multiple repairs, you may want to identify it among the other devices. Let's say it's part of the school's protocol to identify a device that needs more than three repairs. This can help the school identify which ones need replacing or better maintenance.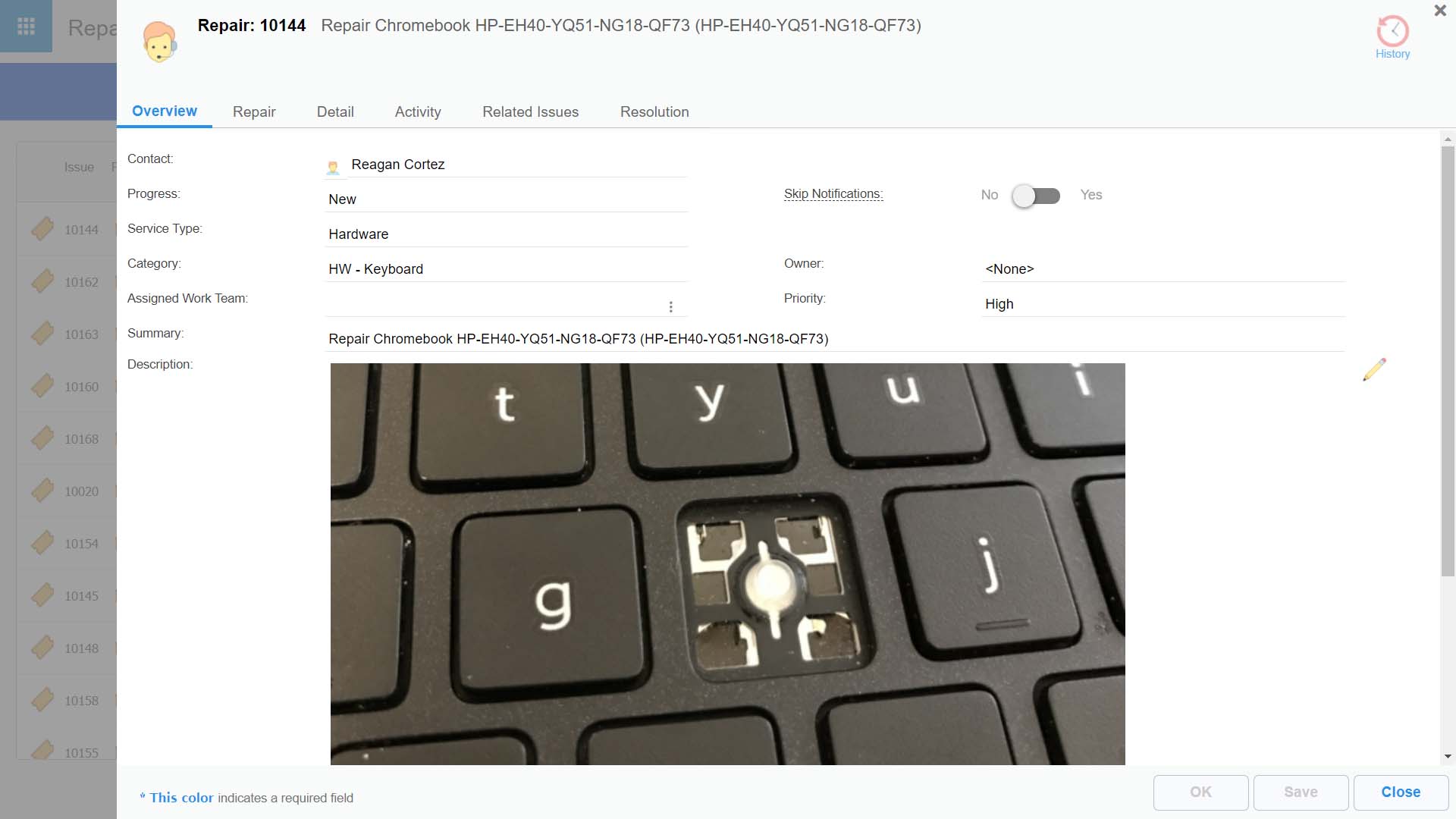 For example, the protocol determines that a device needs to be inspected or replaced after three repairs.  After setting it up, the solution will identify the device as a lemon. Therefore, when a Chromebook is marked for repair three times, it will be identified as a lemon. VIZOR for Chromebooks will then automatically send you a notification to bring it to your attention.
Summary
IT departments in schools have a vital role in Chromebook management. To fully benefit from the investment, management of their circulation, location, repairs, and user are a priority. And quite honestly, this makes it so much easier for the districts to oversee such a big project. Be sure to contact us to help manage your Chromebooks ask@vizor.cloud. We'll chat soon!