Top 6 Software Asset Management Processes
It isn't uncommon for a small to medium size company to use an Excel spreadsheet to track their software assets.
Usually, the spreadsheet's first tab shows all the inventory of the software purchased. Next, the second tab includes a list of agreements the organization has with other businesses. Lastly, the third tab has a list of maintenance contracts.
So, the neatly compiled lists are great to have but how are they benefiting you? Do your spreadsheets constantly update as the organization changes and grows? Are your costs constantly track and record? Are employee requests for new software managed?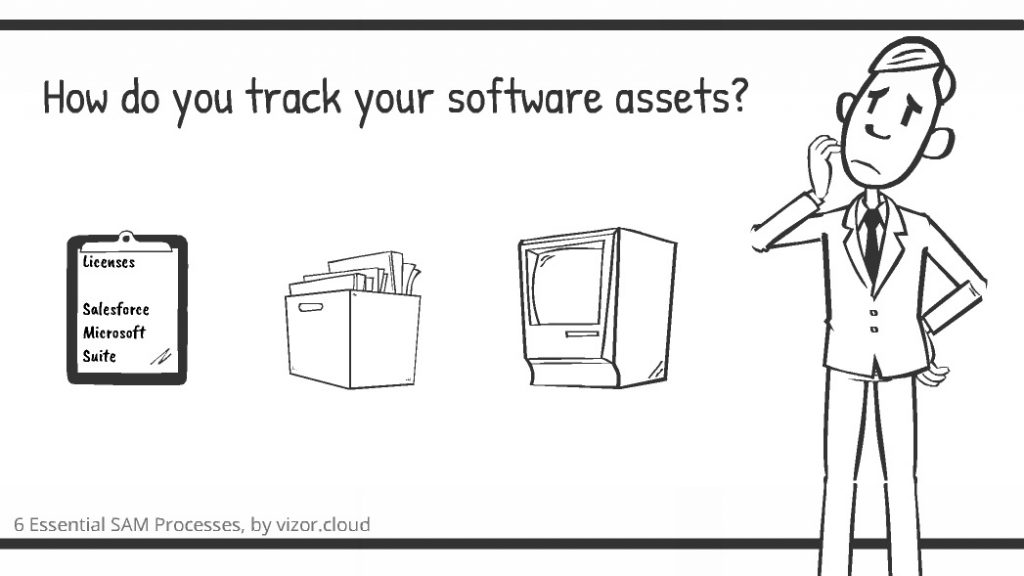 If you answered "no" to any of the questions above, it's time to upgrade your Software Asset Management (SAM) solution to one that has these processes already set up. Consider the following 6 key processes when you search for an upgraded solution:
1. Tracking Licenses
Although Excel spreadsheets are easy to use, they are not ideal for managing software assets. The maintenance of a spreadsheet needs a lot of updating and therefore needs some unwanted overhead costs.
Modern SAM processes manage on-premise PC software licenses, mobile app purchases, and cloud service subscriptions, without the hassle of constant supervision. For example, they track the number of licenses in use, the type of licenses you have purchased, as well as identify supplier information. In addition, this effective solution analyzes any changes in your assets by sending you email notification email. Without any unwanted overhead, IT managers are always thoroughly informed on the software statuses.
2. Cost of Licenses
Licenses are normally bought as a lifelong agreement with yearly maintenance costs or as a yearly subscription model. Today, most businesses have a mix of both. Consequently, keeping track of costs can get out of control.
Updated SAM solutions keep track of purchases, monthly costs, and maintenance fees. They break down software spending by month, year or by employee, department, and project. There is also the option to customize monthly reports with the KPIs (Key Performance Indicator) most important to the company.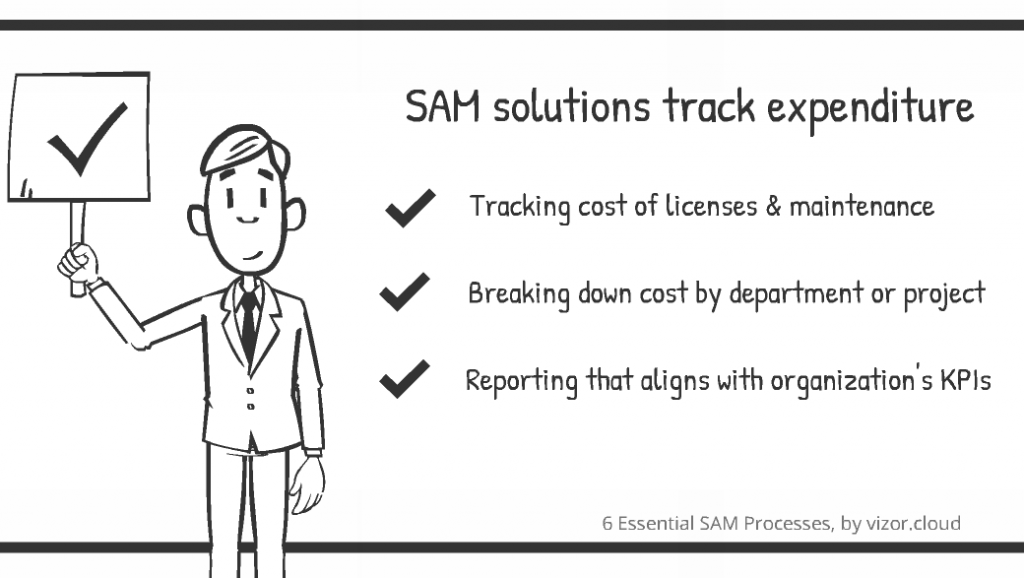 3. Compliant Software Licenses
In order to tell if you are software license compliant, the IT Manager cross-references the licenses purchased, that are listed on your spreadsheet, to the installation data that is usually identified by the inventory discovery tool. This manual process is very tedious and opens the possibilities for mistakes.
A modern SAM solution identifies your license position automatically. Whenever the IT Manager wants, the upgraded solution compares the licenses bought with IT inventory tools. It even identifies complex compliance schemes like CPU and per core licensing models. The tool can also then put all this data into clear and organized reports.
It isn't unheard of for some turnover within an organization. When an employee leaves the establishment or just changes departments, often there is software that needs recovery, otherwise it may get lost. SAM solutions monitor the movement of software and licenses when these situations happen.
For example, if an employee decides to leave the company, the solution will easily recover the software and place it back in the software repository (also known as "repo"). The repo will then hold it until it can be given to the new hire. Gartner reported that recycling software can save an organization up to 30% of IT costs within the first year of use.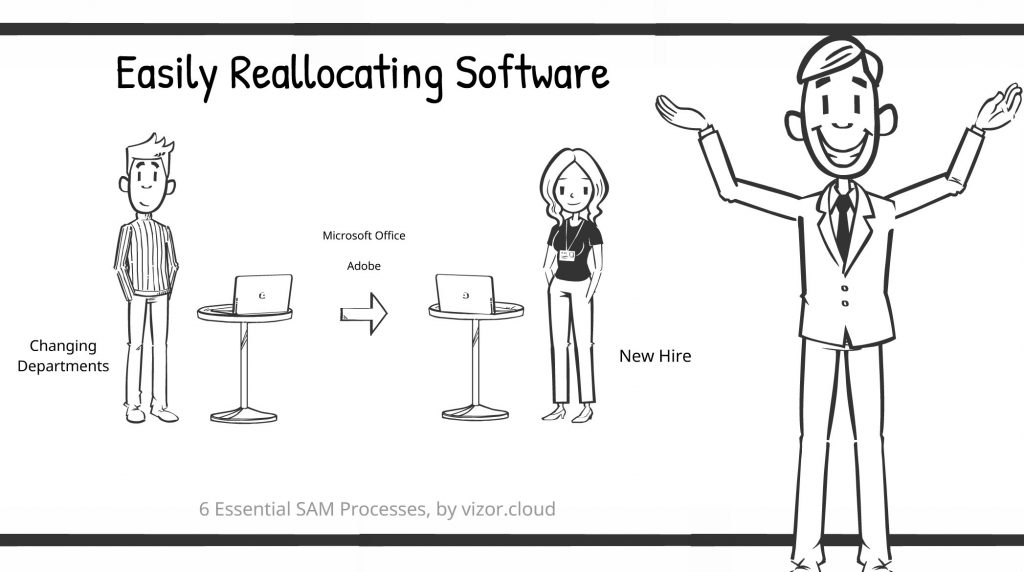 5. Control Software Requests
To reach organizational goals, every department needs various tools to be very efficient. Often employees buy new software or cloud services without approval, leaving the IT department in the dark. IT is then responsible for managing the tool, without knowing who bought it or who is using it.
A modern SAM solution removes what is known as Shadow IT, and ensures an easy process that keeps the IT department updated on all tools used within the organization. By managing of software requests, tools are properly recorded, assigned and approved by the appropriate managers. Other benefits include: standardizing processes, overseeing costs, and avoiding conflicts among departments.
6. Automate On-Boarding
New employees get documents and access to software and cloud services. This tedious process can take a few days to complete. However, with modern solutions, it can be done with one easy click.
Plus, SAM processes help HR. After setting up the appropriate documents and software, it only takes one click for a new hire to receive everything he or she needs on their first day of work. In addition, this process also helps employees changing departments. One just needs to remove access to the previous software and place the new ones relating to the new position. This solution helps to track who is using what software or cloud service.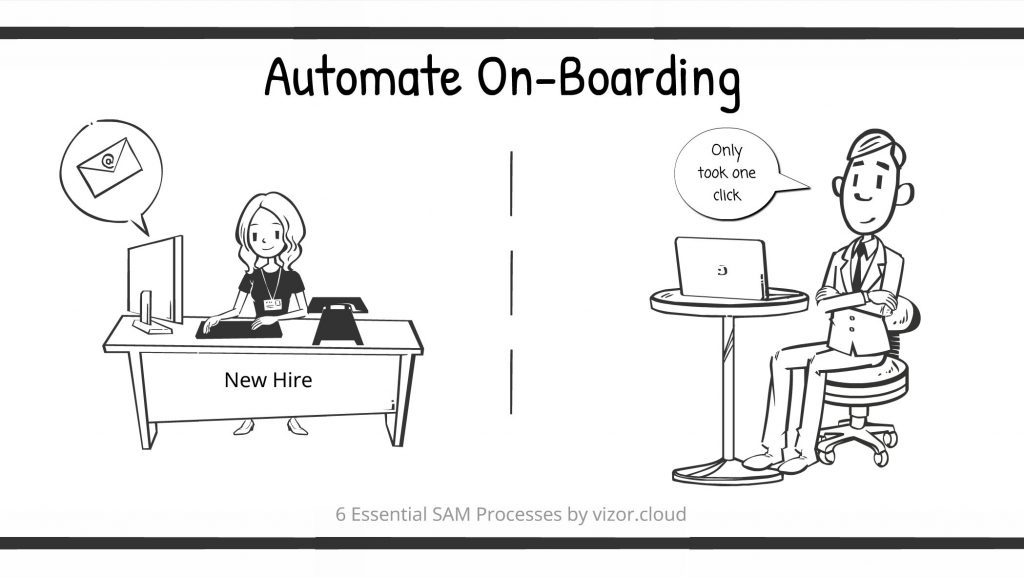 A modern SAM solution has all the processes to make your Software Asset Management easy. It improves the entire software lifecycle, from an employee's request to when it expires.
Using spreadsheets for Software Asset Management is a way of the past. So, make sure your organization is always updated on their software assets. Maybe your best bet is to upgrade your SAM solution.
Send this information to your manager with this 

Infographic
Need a IT Asset Management Tool?