5 Technology Workflows Your School Needs
As schools order Chromebooks to include in their curriculums, it's important that schools are ready to implement new technology workflows. This is ideal to get right BEFORE getting the Chromebooks. Why? It's in every party's best interest for a smooth transition and so the students can take advantage of the devices as soon as possible. Therefore, in this blog, we are going to review 5 technology workflows your school needs before getting Chromebooks.
1. Distribution
Picture this. You purchase hundreds, if not thousands, of Chromebooks. They finally arrive. They are stacked up in the gymnasium, ready to be unboxed. A dozen staff members get to work and started unboxing the devices.
Then what?
How do you divide them? By homeroom? Grade? By model? By size?
What system are you using to make sure they get to the right student?
That's where the distribution workflow comes in. It answers these questions. It tells you what you need to do after unboxing the Chromebooks.
As a district or school, you need to decide how you will track who is using what device. You need to decide what system to track them in.
In this example, let's say you choose spreadsheets that you will upload in G Suite.
Now that they are listed in there, how will teachers get them to the students? Are you using a library system? Are you using a solution like VIZOR for Chromebooks?
Surprisingly, this step is often overlooked as something that can be figured out on the spot. Unfortunately, that's not the reality.
PRO TIP: Understand how the Chromebooks will actually get into the hands of the students and how you will track who is using what BEFORE getting the Chromebooks.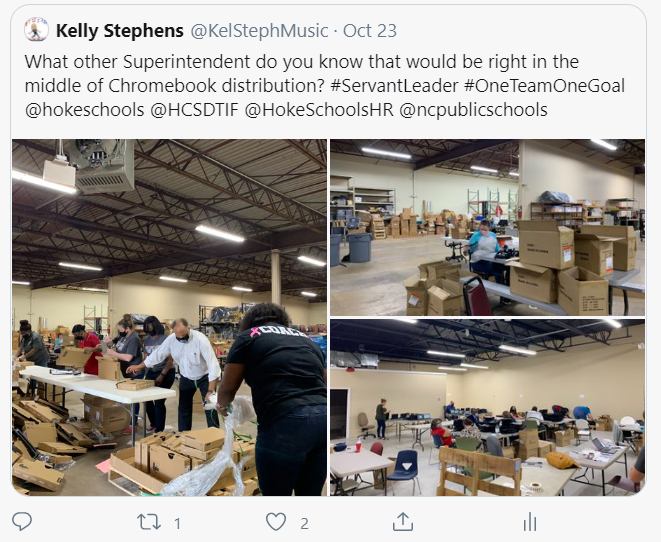 2. Replacement devices
If a Chromebook breaks, the school needs to be ready to supply a replacement device. As a school or district, decide how many laptops you should have in inventory. Then, decide how you will swap the broken device with the correct device.
How are you tracking the circulation of the device?
Imagine having a device that belongs to a student…but you don't know which student?
That's where this technology workflow comes in.
Are you going to use a library system? A spreadsheet? A scanner?
PRO TIP: Set up the possibility for students to easily obtain a replacement device so their education isn't put on hold, ever!
3. Ticket Submission
In the current circumstances, some students are working from home while others are in the classroom. Many schools already have a helpdesk in place but here are some KEY pieces of advice to improve how students and parents submit tickets.
Make the link to submit a ticket EASILY accessible from the website
Email the parents directly so they can refer to it in their inboxes
Ask them to fill out key information in the ticket to reduce going back and forth
Create a knowledge base of documents so students and parents can access them after school hours
Automate messages to the students and parents to keep them informed on the progress of their ticket
PRO TIP: Make it easy for students and parents to get the technological support they need 24/7.
4. Communication with parents
Including technology in your curriculum involves the district, the students AND their parents. Especially for younger students, parents are a huge part of the project's success. Therefore, we recommend having technology workflows in place to keep parents up-to-date.
Some schools use Student Information Systems. We recommend going an extra step and automating emails to them in weekly newsletters. This is even more important when parents are learning how to use the devices along with their children.
Tips on how to include parents:
Create documents to help them learn the software
Offer weekly newsletters
Consider monthly Zoom question and answer meetings
Start a private Facebook page where the community of parents can help each other
PRO TIP: Try different things to find the right platforms to keep parents informed and involved.
5. Daily rentals
Since the concept of school began, students have forgotten their books for class. As you can imagine, students will forget their technological devices at home (if they are going to school). That's where daily rental/loan workflows come in.
How many Chromebooks do you have on hand to distribute to students last minute?
How do they check out the Chromebook?
Can they do it by themselves?
What needs to be in place so this can be possible?
PRO TIP: Try to automate this process as much as possible – avoid daily headaches!