How Software Asset Management Reduces Business Costs
On a limited budget, small to medium size businesses are creative when saving money. However, they usually don't know the cost benefits of having a Software Asset Management (SAM) solution. Many people believe that only large organizations can take advantage of these cost-saving solutions. In reality, there are actually affordable ones that smaller businesses can benefit from too. Not only do they carry out proper procedures and automate IT tasks, but they save smaller businesses money in the long-run!
LET'S TAKE A LOOK AT 5 OF THE MONEY-SAVING PROCESSES OF A SAM TOOL: 
1. Software Discovery
A modern SAM tool has a built-in inventory discovery that identifies the software installed on all the computers within the business. If information is already written in an Excel spreadsheet, the solution can transfer that information as well. SAM has the ability to collect the data automatically, so it does not have to be re-entered manually. This avoids the possibility of human error and makes sure that the data is accurate and reliable. In addition, it has the ability of helping you focus on which software needs management.
For example, a software discovery tool will identify software regardless of the cost. It will identify Chrome or a compression tool like Zip. The software discovery tool focuses on software management that affects the organization's spending. Finally, a software asset management solution is expandable so the tool will continue working as business grows.
2. Effective License Position
A Software Asset Management solution determines your effective license position. In other words, it is able to determine whether you are missing any software licenses or have a surplus.  It identifies on-premise PC software licenses, mobile app purchases and cloud subscriptions.
Smaller businesses try to find the best software to streamline processes and save money. Consequently, businesses build an inventory of software that are similar to one another, forgetting what they have previously bought. Even if they are just cloud subscriptions, the costs can add up. Therefore, a Software Asset Management solution helps small businesses stay on top of their purchases and stay within their budget.

3. Notifications
It can get hard to remember when every software must be renewed or repurchased. It also isn't uncommon for smaller businesses to delay this task while they take on higher priorities. This is the reason why a Software Asset Management solution automatically warns you. Not only does it let you know in advance so you can prepare, but it supports you with the information necessary to make the best decision. As a result, you can spend more time on a better negotiation with the software vendor and really reduce your costs.
4. Software License Recycling
It can be difficult to track the movement of software when employees leave the business or change positions. As a result, software are often lost, forgotten or left on computers that do not need it. Using a Software Asset Management tool avoids this issue by automatically recovering software.
After a software license is recovered, it is centralized into into a repository where it is kept until another employee needs it. The tool has the ability to identify what software is being used, and which ones are still available. The ability to automatically redistribute software helps businesses prepare for hiring new employees, which leaves them more time to work on more important tasks.  Furthermore, this avoids overspending on licenses so a smaller business can use that money on promoting their products or services.
5. Eliminate Shadow IT
A Software Asset Management Solution encourages smaller businesses to implement procedures and policies that they may have overlooked. Proper IT processes ensure software requests and purchases are closely monitored. It gets rid of the possibility of departmental arguments and duplicated licenses. Using a SAM tool reduces waste on software licenses and ultimately reduces cost.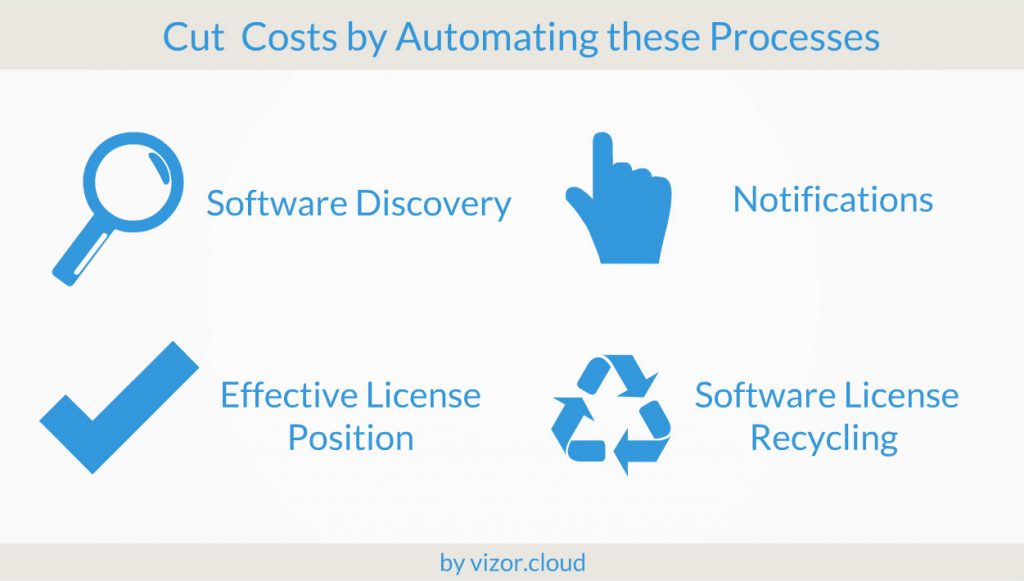 For smaller businesses, Software Asset Management solutions track, monitor, distribute, and recycle software which can replace an elaborate combination of spreadsheets and utilities. Thus, the business would save money on staff and on overspending on software. Using a SAM tool also controls software procedures and keeps IT informed about all software requests and purchases which is perfect for a growing business. Overall, a SAM solution offers businesses the benefits of an on-going improved solution for their software that results in saving time, resources and costs!
Which part of SAM will your business profit from the most cost reductions? Share this article on Twitter and let us know your opinion @vizorcloud
Need a IT Asset Management Tool?