What to Expect from ITIL V4
ITIL is the Information Technology Infrastructure Library that serves as a guideline for IT Service Management (ITSM). The latest version, ITIL 4, was just released. It has been eight years since AXELOS released ITIL V3. The IT community is anxious to know what the new version means for their certification and their organization. Let's review what changes to expect from ITIL V4.
ORGANIZATION

1. From processes to a holistic approach
The earlier ITIL versions focused on processes; however, ITIL 4 brings about a more holistic approach to ITSM. AXELOS describes ITIL 4 as "to look at IT service management through a brand new end-to-end operating model for the creation, delivery and continual improvement of tech-enabled products and services."
The fundamental guidelines remain the same, but it considers all the stakeholders, processes and policies of the business. This is so service management can remain or be more efficient when facing new technology, people and business changes.
The holistic approach is further emphasized with the Service Value Chain (SVC). The SVC essentially brings activities like plan, improve, engage, design and transition, obtain/build, and deliver and support, into one value system. The activities, as part of the value system, demonstrate how to create, deliver and continue to improve services. The activities can be in any sequence, allowing IT to adapt efficiently and continuously provide good service. It also encourages communication across the value chain with other professionals in the IT ecosystem- ITIL is finally using similar language to Agile, DevOps and Lean.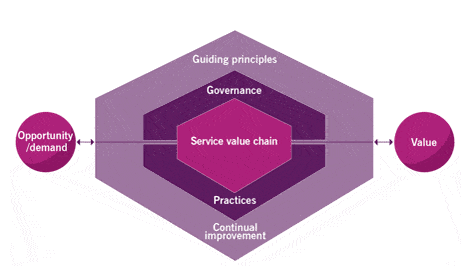 2. ITSM is ever-evolving
As technology changes the way we are doing business, there is more and more need for IT to be on the same page as the rest of the organization. As a result, ITIL 4 introduces concepts that focus on being flexible when organizations go through change – like a technology shift. The concepts in ITIL 4 are not new but rather needed more emphasis in the world of service management. As a result, ITIL V4 is not an entirely new version, it's an evolution of V3.  The concepts include:
1- The need to adapt and adjust service to different parts of the organization. Departments do not operate the exact same way and it is up to IT to be able to adapt to their changes and differences.
2- Continued improvement. Not only in technology but in culture, management, and employees.
3- Emphasis on people. This is not only the employees but the partners, stakeholders and any other party that IT may need to manage.
These concepts extend to the original four dimensions in ITIL V3 (people, process, product, and partner). They have been updated to encompass the complexity of business and its stakeholders. The stakeholders include organizations, and people, information and technology, partners and suppliers, value streams and processes. Notice how the original dimensions have become multidimensional to emphasize that IT is becoming more and more involved in business priorities.
To help adopt these changes, ITIL 4 also introduces seven guiding principles:
Focusing on value
Starting where you are
Progressing iteratively with feedback
Collaborating and promote visibility
Thinking and working holistically
Keeping it simple and practical
Optimizing and automating
CERTIFICATION
For those who are certified for ITIL V3, there is a small transition course to achieve ITIL V4 certification. For those who want to get the certification, AXELOS changed the process from a 17-point system to 4 main courses to get ITIL Managing Professional Certification, as you can see below.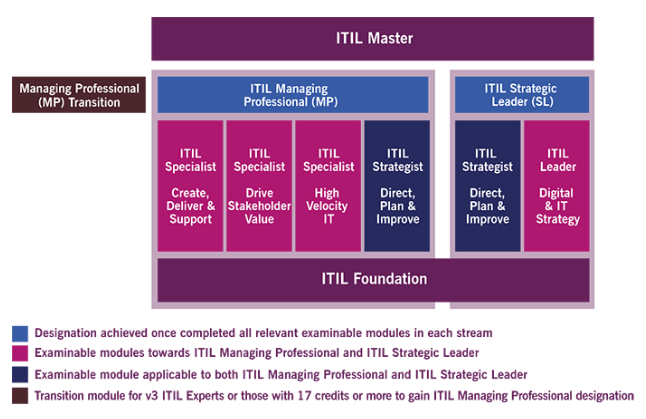 Need a IT Asset Management Tool?